Silk filled Mattress Pad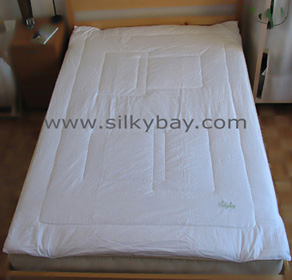 The Silk Filled Mattress Pad Embroidered
with 100% Combed Cotton Sateen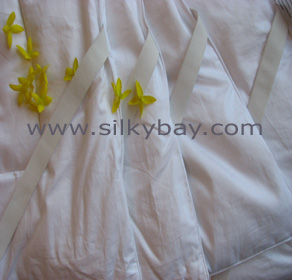 SilkybayŽ 100% A-Grade Mulberry Silk Filled Mattress Pad
with elastic band
&nbsp
&nbsp
SilkybayŽ mulberry silk filled mattress pads / mattress toppers are all hand-made of 100% finest new long silk fiber with the top grade quality as that of our comforters. Providing the best products to our precious customers is always our goal.
With our Mattress Pads, Comforters and Pillows, you will have a complete care from natural silk.
Each SilkybayŽ silk filled mattress pad has four elastic bands that can attach to any type of mattress that you have. Along with the 100% combed cotton sateen shell and a drawstring storage bag, our mattress pad again will bring you our care for your health and everyday life.
| Item Title | Size | Silk Floss Weight |
| --- | --- | --- |
| Twin | 99 X 191CM | 0.61 KG |
| Full | 138 X 191 CM | 0.84 KG |
| Queen | 153 X 203 CM | 0.99 KG |
| King | 198 X 203 CM | 1.28 KG |
| Cal-King | 183 X 213 CM | 1.24 KG |