Silk Pillow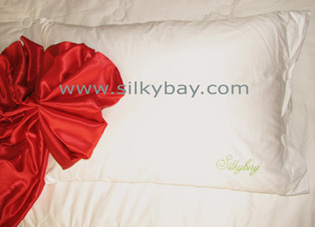 The Silk Filled Pillows Sewn with
100% Cotton High-Density Poplin
and an Extra
100% Combed Cotton Sateen Cover
In order to provide you a healthier and cozier sleeping environment, we are also providing you 100% firmly silk filled pillows, each is equipped with a bonus pillow case made of 100% combed cotton sateen. Pillows are available in standard, Queen and king size.
As per our silk filled comforters / duvets, silk filled pillows are ideal for people who are sensitive to down dusts and mites. With 18 types of human alike amino acid released by silk fiber, these pillows can create a more sleep friendly surrounding by nurturing the aging facial skin and soothing the scalp during the sleep.
As mentioned in Care & Store, pillows are also encouraged to use with pillow cases.
| Item Title | Specifications | Size | Padding Weight |
| --- | --- | --- | --- |
| Special Silk/Poly | 50% silk 50% polyester | 20" X 28" | 0.5 KG / 0.5 KG |
| standard | 100% silk | 20" X26" | 1.2 KG |
| Queen | 100% silk | 20" X30" | 1.4 KG |
| King | 100% silk | 20" X 36" | 1.75 KG |