Silk Duvet
Silkybay« mulberry silk filled comforters / duvets are all hand-made of 100% finest new long silk fiber with a top grade quality from the silk's origin - China. Our manufacture base has more than 10 years experience in modern silk bedding products. We believe only the best raw material plus the best manufacturers can enable us to provide the best products to our precious customers.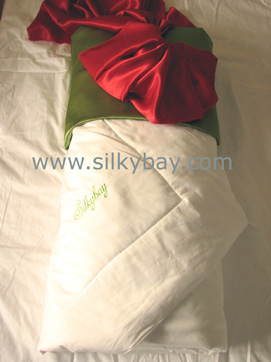 The Silk Filled Duvet Embroidered
with 100% Combed Cotton Sateen
Presently, we are providing you silk filled duvets in light and deluxe weight. You can always make your own decision based on your body and the indoor temperature.
Our light weight duvets are designed for all the seasons. For most people, the light weight duvets are ideal for all year round with indoor temprerature 18~30 degrees Celsius (65~86 degrees Fahrenheit); they are proper enough for any normal summer nights as well as for those coolish nights in spring and autumn. In winter, if your house is centrally heated, the light weight is as competent as it is for spring and autumn season.
We also know that there are always some people who are sensitive to coldness. If you are one of them, you can also choose our deluxe duvets. They have more silk filled which is good for Autumn / Winter with indoor temperature 15 ~22 degrees Celsius (59~72 degrees Fahrenheit)
For extremely chilly nights, especially for Canadian customers, please feel free to use the attached buttons and hooks to make two duvets into one if necessary.
As mentioned in Care & Store, duvets are encouraged to use with duvet covers.
| Item Title | Specifications | Size | Silk Floss Weight | Indoor ║C / ║F |
| --- | --- | --- | --- | --- |
| Twin | Light | 220 X 170 CM | 0.9 KG | 18~30 / 65~86 |
| Twin | Deluxe | 220 X 170 CM | 1.8 KG | 15~22 / 59~72 |
| Full/Queen | Light | 220 X 220 CM | 1.2 KG | 18~30 / 65~86 |
| Full/Queen | Deluxe | 220 X 220 CM | 2.4 KG | 15~22 / 59~72 |
| Full/Queen - XL | Light | 230 X 240 CM | 1.3 KG | 18~30 / 65~86 |
| Full/Queen - XL | Deluxe | 230 X 240 CM | 2.6 KG | 15~22 / 59~72 |
| King | Light | 280 X 240 CM | 1.5 KG | 18~30 / 65~86 |
| King | Deluxe | 280 X 240 CM | 3.0 KG | 15~22 / 59~72 |